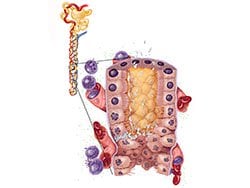 Tumor lysis syndrome commonly occurs after treatment of high-grade bulky NHLs because of their exquisite sensitivity to therapy, which is caused by their high proliferative capacity. Tumor lysis syndrome is characterized by hyperuricemia, hyperkalemia, hyperphosphatemia, hypocalcemia, and renal failure. Death from cardiac asystole can occur owing to hyperkalemia. Measures to prevent this complication include aggressive hydration, allopurinol administration, and urine alkalinization. Frequent monitoring of input and output, electrolytes, uric acid, and creatinine is necessary. Dialysis is sometimes required.
Standard management of indolent stage I and contiguous stage II NHL consists of radiation therapy alone. Forty percent of patients with limited-stage disease remained disease-free at 10 years after radiation in a study by Mac Manus and colleagues. No randomized study has shown combined chemotherapy and radiation to be better than radiation alone.
In asymptomatic patients with indolent NHL, especially older patients and patients with concomitant medical problems, deferred therapy with careful observation is an option. Early intervention in asymptomatic patients does not appear to prolong survival. The median time to progression is 4-6 years, and overall survival is 6-10 years.
The preferred treatment option for patients with intermediate-grade NHL is combination chemotherapy (three cycles of CHOP) plus involved-field radiation therapy. According to Southwest Oncology Group (SWOG) data, patients who are treated with chemotherapy and involved-field radiation therapy have significantly better progression-free survival rates (77% vs 66%) and 5-year overall survival rates (82% vs 72%) than patients surviving eight cycles of chemotherapy alone. Patients with high-grade disease should be strongly considered for treatment with more aggressive regimens.
For more on the treatment of NHL, read here.
Medscape © 2018 WebMD, LLC

Any views expressed above are the author's own and do not necessarily reflect the views of WebMD or Medscape.
Cite this: Emmanuel C. Besa. Fast Five Quiz: Test Your Knowledge on Key Aspects of Non-Hodgkin Lymphoma - Medscape - Aug 20, 2018.