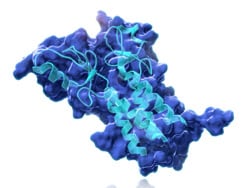 Women of Ashkenazi Jewish descent have the highest prevalence of the BRCA1 mutation, at 8.3%. Independent of BRCA status, Ashkenazi Jewish women have double the baseline risk for breast cancer. It is estimated that 2.5% (1:40) of patients of Ashkenazi Jewish descent carry one of the three BRCA1 or BRCA2 founder mutations (185delAG, 538insC in BRCA1; 6174delT in BRCA2). Women who inherit a mutation in the BRCA1 or BRCA2 gene have an estimated 50%-80% lifetime risk of developing breast cancer.
Learn more about the pathophysiology of breast cancer.
Medscape © 2020 WebMD, LLC

Any views expressed above are the author's own and do not necessarily reflect the views of WebMD or Medscape.
Cite this: Maurie Markman. Fast Five Quiz: How Much Do You Know About the Genetics of Breast Cancer? - Medscape - Dec 29, 2020.