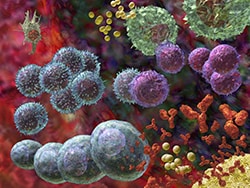 Both cell-mediated and antibody-mediated immune responses have been shown to play a role in the pathophysiology of CIDP. In CIDP, inflammatory T cells and macrophages invade peripheral nerve endoneurium, resulting in peripheral nerve segmental demyelination. Although some researchers have found a higher incidence of human leukocyte antigens (HLAs) Dw3, DRw3, A1, and B8 in patients with CIDP than in healthy populations, findings from studies regarding HLA-type associations are conflicting.
Cell-mediated immune responses do not involve antibodies and are not solely responsible for CIDP. Examples of cell-mediated immune diseases include type 1 diabetes mellitus and Hashimoto thyroiditis.
Regarding susceptibility, although there is no known genetic link to CIDP, some studies have shown an association between certain genes and CIDP disease severity. Because signs and symptoms of Charcot-Marie-Tooth disease and other peripheral nerve myelin disorders may be confused with those of CIDP, genetic testing is sometimes indicated to rule out inherited neuropathies. A comprehensive examination and history, however, should assist clinicians in differentiating between these two separate diseases.
For more on the pathophysiology of CIDP, read here.
Medscape © 2019 WebMD, LLC

Any views expressed above are the author's own and do not necessarily reflect the views of WebMD or Medscape.
Cite this: Jafar Kafaie. Fast Five Quiz: How Much Do You Know About Chronic Inflammatory Demyelinating Polyradiculoneuropathy? - Medscape - Feb 08, 2019.