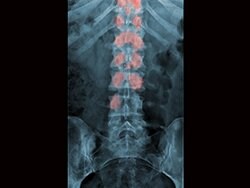 Conventional radiography remains the best method to characterize metastatic bone lesions, of which there are three types: osteolytic, sclerotic, and mixed lesions. Typical osteolytic bone metastasis develops in the medullary cavity (marrow cavity) and progresses to not only destroy the cavity but also invade the bony cortex. Osteolytic lesions are the most common type and are predominantly from primary lung, breast, renal cell, and thyroid cancers.
Sclerotic lesions also originate in the medullary cavity. However, instead of destroying bone, these lesions increase cell production, leading to thickened areas of bone. Sclerotic lesions are seen with primary prostate, breast, melanoma, and bladder cancers.
Although CT, MRI, and nuclear imaging are useful in monitoring the progression of MBD and a patient's response to treatment, x-ray imaging remains the best method to characterize bone metastases.
Because of its high cost and limited availability, whole-body MRI is not a practical screening tool for MBD. However, this imaging modality is useful in distinguishing metastatic spinal lesions from benign spinal lesions. For example, the "halo" sign, or "bull's-eye" sign, on MRI helps distinguish bone metastasis from benign lesions. In the spine, it can demonstrate posterior vertebral body bulging, signal-intensity changes extending into the pedicle, and paraosseous tumor spread (into the soft tissue).
For more on x-ray imaging for MBD, read here.
Medscape © 2019 WebMD, LLC

Any views expressed above are the author's own and do not necessarily reflect the views of WebMD or Medscape.
Cite this: Maurie Markman. Fast Five Quiz: Imaging Studies in Metastatic Bone Disease - Medscape - Mar 27, 2019.