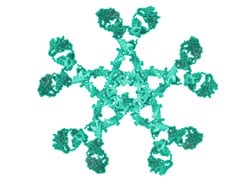 Elevated IgM (confirmed with immunofixation), elevated blood viscosity, and lymphoplasmacytic infiltrate on bone marrow biopsy are diagnostic criteria for WM. In addition, WM cells are often positive for the biomarkers CD19, CD20, CD22, and CD79a. Because MYD88L265P mutations are present in approximately 90% of patients with WM, genetic studies can help differentiate WM from MM and other types of lymphoma.
Elevated troponin levels demonstrated on serial measurements are not part of the diagnostic criteria for WM, but rather are performed to assess for myocardial injury and necrosis.
An FPG level ≥ 126 mg/dL, a 2-hour PGL ≥ 200 mg/dL during a 75-g OGTT, or a random PGL ≥ 200 mg/dL in a patient presenting with symptoms of hyperglycemia are diagnostic criteria for type 2 diabetes mellitus.
An acute illness lasting < 21 days, cough as the predominant symptom, at least one other lower respiratory tract symptom (sputum production, wheezing, chest pain), and no alternative explanation for a patient's symptoms are diagnostic criteria for acute bronchitis.
For more on diagnostic criteria for WM, read here.
Medscape © 2019 WebMD, LLC

Any views expressed above are the author's own and do not necessarily reflect the views of WebMD or Medscape.
Cite this: Emmanuel C. Besa. Fast Five Quiz: Can You Diagnose Waldenström Macroglobulinemia? - Medscape - Mar 13, 2019.