Each week, we identify one top search term, speculate as to what caused its popularity, and provide an infographic on a related condition. If you have thoughts about what's trending and why, feel free to share them with us on Twitter or Facebook!
News out of the European Society of Cardiology (ESC) Congress 2019 and new guidance from the American Heart Association (AHA) helped make new lipid guidelines this week's top trending clinical topic. On August 31, the ESC/European Atherosclerosis Society unveiled aggressive new lower targets for low-density lipoprotein (LDL) reduction. They were published simultaneously online in the European Heart Journal and have a simple focus: Lower is better. For patients at the highest risk, the guidelines suggest that LDL should be lowered as much as possible, with no low limit indicated. The guidelines also removed the distinction between primary and secondary prevention and emphasize the use of high-dose statins in certain populations.
In terms of statin therapy, the results of a new trial suggest that adding the PCSK9 inhibitor evolocumab to high-intensity statin therapy in patients with acute coronary syndrome safely lowers LDL-cholesterol (LDL-C). In the EVOPACS study, 95.7% of patients in the evolocumab group and 37.6% in the placebo group reached an LDL-C target of < 70 mg/dL at 8 weeks.
Meanwhile, a science advisory from the AHA suggested that using prescription omega-3 fatty acids is a safe and effective method of reducing elevated triglyceride levels alone or in combination with other lipid-lowering therapy. However, dietary supplements containing omega-3 fatty acids should not be used in place of prescription medication for long-term management of high triglyceride levels, the AHA cautions. According to the advisory, for patients with triglyceride levels of 200-499 mg/dL, prescription omega-3 fatty acids at a dose of 4 g/day reduce triglyceride levels by 20%-30% without significantly increasing LDL-C.
As healthcare providers around the world are focused on heart health, new lipid guidelines seized attention this week, becoming the top trending clinical topic.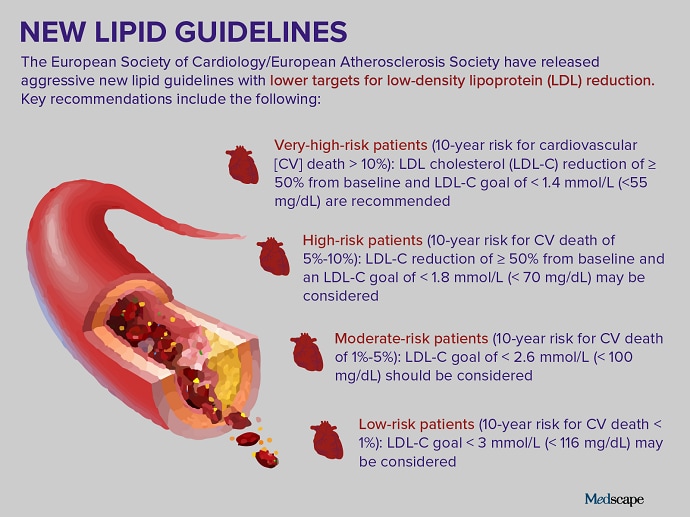 Medscape © 2019 WebMD, LLC

Any views expressed above are the author's own and do not necessarily reflect the views of WebMD or Medscape.
Cite this: Ryan Syrek. Trending Clinical Topic: New Lipid Guidelines - Medscape - Sep 13, 2019.