Each week, we identify one top search term, speculate as to what caused its popularity, and provide an infographic on a related condition. If you have thoughts about what's trending and why, feel free to share them with us on Twitter or Facebook.
Multiple outbreaks in the United States that have resulted in at least two deaths caused Legionnaires disease to become this week's top trending clinical topic.
Legionnaires disease is an atypical form of pneumonia that is most commonly caused by the waterborne bacterium Legionella pneumophila . Earlier this year, 12 people were diagnosed with Legionnaires disease after staying at a hotel in Atlanta, with another 61 probable cases also identified. One of the affected individuals died in August. This past week, an investigation in North Carolina determined that a hot tub exhibit at a state fair there may have been responsible for a recent outbreak that sickened more than 100 individuals and killed at least one. Also this week, state health officials in Michigan are investigating after seven patients were diagnosed with and treated for Legionnaires disease at a suburban Detroit hospital.
In Europe, Australia, and the United States, approximately 10-15 cases are detected per million population each year. Because the condition can be benign and self-limited, however, the true incidence of Legionnaires disease is probably underreported. The most common form of transmission is inhalation of aerosols contaminated with L pneumophila, by way of water sprays, jets, or mists. It can also be transmitted via aspiration of contaminated water or ice, often in hospitalized patients, such as may be the cause of the recent Michigan outbreak. Outbreaks of any kind often garner much attention. The fact that these recent instances have been associated with multiple fatalities explains why Legionnaires disease is this week's top trending clinical topic.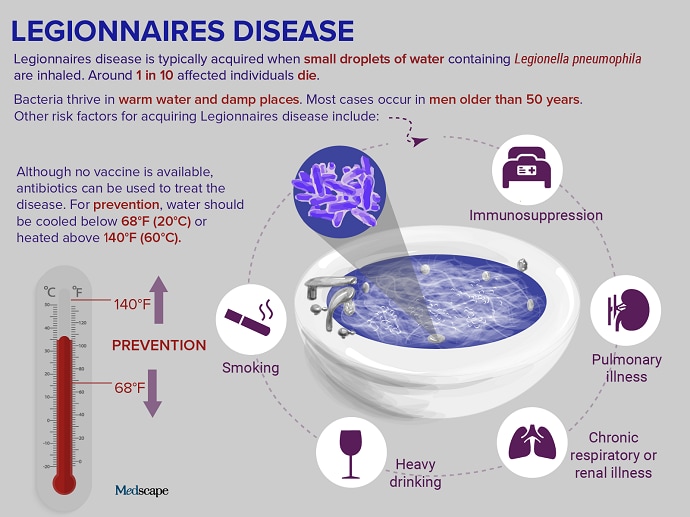 Medscape © 2019 WebMD, LLC

Any views expressed above are the author's own and do not necessarily reflect the views of WebMD or Medscape.
Cite this: Ryan Syrek. Trending Clinical Topic: Legionnaires Disease - Medscape - Oct 18, 2019.