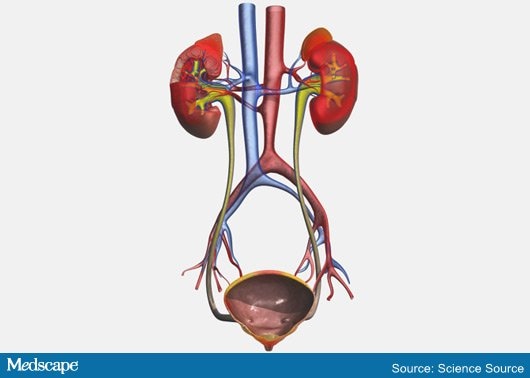 Figure 1. Urinary tract.
Urinary cytology is extremely valuable for diagnosing high-grade tumors and CIS. However, routine cytologic analysis may miss low-grade, noninvasive tumors. In patients with suggestive urine cytology findings, a cystoscopy and possibly bladder biopsy are recommended.
Despite its benefits in other subtypes, urinary cytology is not particularly helpful for the early diagnosis of SCCs, most of which are not diagnosed until they are at an advanced stage.
In patients with CIS, cystoscopy may reveal a distinctive red, velvety appearance that resembles an area of inflammation. However, CIS is not always visible on gross inspection.
The presentation of bladder cancer may resemble UTI in several ways. For example, bacteriuria occurs in about 50% of patients with SCC, and both bladder cancer and UTI may result in hematuria. Irritative voiding symptoms, which are common in UTI, may also occur in CIS or muscle-invasive bladder cancer. It is also possible for patients to have concomitant UTI and bladder cancer.
Learn more about the workup for bladder cancer.
Medscape © 2020 WebMD, LLC

Any views expressed above are the author's own and do not necessarily reflect the views of WebMD or Medscape.
Cite this: Kyle A. Richards. Fast Five Quiz: Bladder Cancer Presentation and Diagnosis - Medscape - Dec 29, 2020.