Each week, we identify one top search term, speculate as to what caused its popularity, and provide an infographic on a related condition. If you have thoughts about what's trending and why, feel free to share them with us on Twitter or Facebook.
Several recent studies associated with treatment-related concerns, as well as a potentially helpful new strategy for patient care, made hypothyroidism this week's top trending clinical topic. A large, population-based study that used data from the Veterans Health Administration found that low levels of thyroid-stimulating hormone (TSH) resulting from the overtreatment of hypothyroidism are associated with a significantly increased risk for atrial fibrillation and stroke. The study controlled for known cardiovascular risk factors, such as smoking and hypertension. These findings suggest the importance of avoiding overtreatment with medications like levothyroxine, which is among the most commonly prescribed medications in the world.
Concerns about incorrect doses of compounded levothyroxine were also recently raised by a study that found substantial variation in the active drug components obtained from compounding pharmacies and student pharmacists. The 12 samples that were investigated ranged from 12% to 47% of the stated label strength. These variations could potentially lead to undertreatment or overtreatment. American Thyroid Association guidelines do not recommend compounded formulations for thyroid replacement.
In more encouraging news, a UK study found that a series of alerts that prompted primary care physicians to perform TSH tests annually, or when values fell out of range, in patients with hypothyroidism could significantly improve management. The electronic alert system aided in thyroid function optimization, with effects still apparent after 2 years. Although "alert fatigue" is a concern for some providers, developing alert systems tailored to individual patient management may provide a path to avoiding undertreatment or overtreatment. From preventing dangerous related conditions to ensuring proper care, the recent f news regarding hypothyroidism treatment made it this week's top trending clinical term.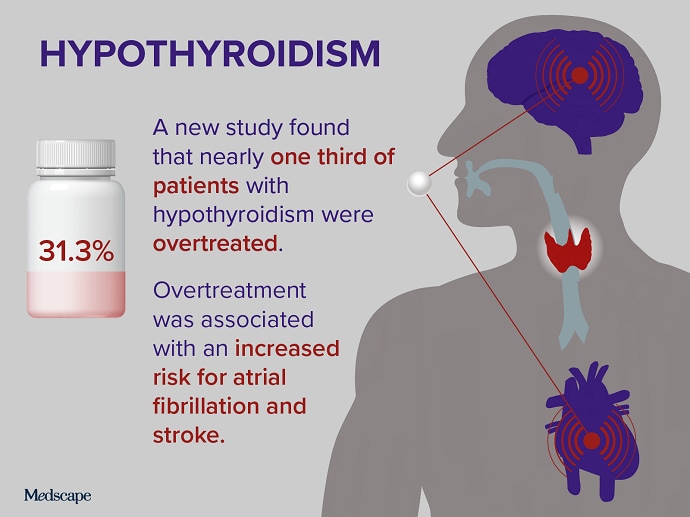 Medscape © 2019 WebMD, LLC

Any views expressed above are the author's own and do not necessarily reflect the views of WebMD or Medscape.
Cite this: Ryan Syrek. Trending Clinical Topic: Hypothyroidism - Medscape - Nov 22, 2019.