Each week, we identify one top search term, speculate as to what caused its popularity, and provide an infographic on a related condition. If you have thoughts about what's trending and why, feel free to share them with us on Twitter or Facebook.
Concern about possible contamination of the most prescribed glucose-lowering medicine worldwide helped make metformin this week's top trending clinical topic. The US Food and Drug Administration (FDA) announced that it has begun testing samples of the diabetes drug metformin for the presence of N-Nitrosodimethylamine (NDMA), a known carcinogen. Within the past 2 years, NDMA has also been associated with recalls of blood pressure and heartburn medications. The FDA's announcement followed news that three versions of metformin have been recalled in Singapore and that the European Medicines Agency has requested that manufacturers test for NDMA. The UK's Medicines and Healthcare products Regulatory Agency is also monitoring the situation.
News from earlier in the year regarding metformin was much more promising. In early April, a study found that metformin treatment may increase the potential for pregnant women with polycystic ovary syndrome (PCOS) to deliver a full-term baby. Later that month, research found that metformin may not only aid in lowering blood glucose levels, but it also may help people who lose weight maintain that loss. In July, a study found that metformin may help prevent dementia in black patients, especially those in their 50s to mid-60s.
Because treatment with metformin can be so valuable in so many patients, the FDA urges caution in reacting to the news of its investigation. FDA spokesman Jeremy Kahn pointed out in a statement that "the agency has not confirmed if NDMA in metformin is above the acceptable daily intake (ADI) limit of 96 nanograms." He explained that taking a drug with NDMA at that level or below daily for 70 years would not be expected to increase the risk for cancer. As news continues to develop, searches for information about metformin are likely to remain popular.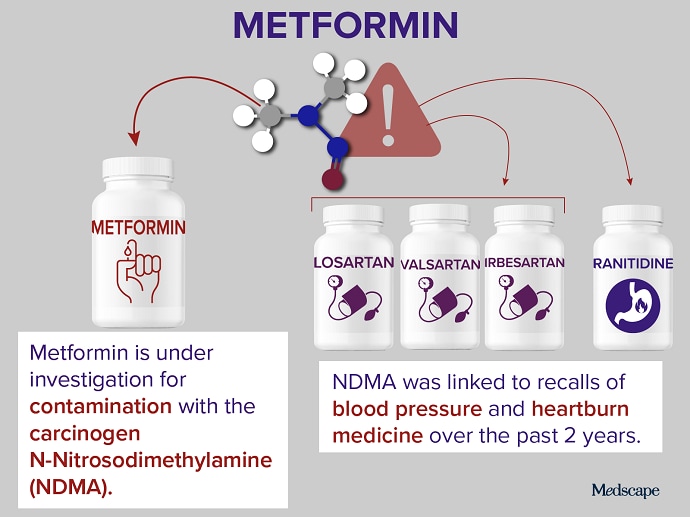 Read more about dosing information and other aspects of metformin.
Medscape © 2019 WebMD, LLC

Any views expressed above are the author's own and do not necessarily reflect the views of WebMD or Medscape.
Cite this: Ryan Syrek. Trending Clinical Topic: Metformin - Medscape - Dec 20, 2019.