Each week, we identify one top search term, speculate about what caused its popularity, and provide an infographic on a related condition. If you have thoughts about what's trending and why, feel free to share them with us on Twitter or Facebook.
From a curious link between pet ownership and disease development to a newly approved treatment option, a wide variety of news helped make schizophrenia this week's top trending clinical topic. Results of a new study showed that having a pet dog as a child may protect against the development of schizophrenia later in life. Researchers assessed 396 patients with schizophrenia, 381 patients with bipolar disorder, and 594 individuals who comprised the healthy control group. Findings suggested that having a pet dog in the house before the 13th birthday was significantly associated with a decreased risk of receiving a subsequent diagnosis of schizophrenia. This association was not explained by a range of demographic factors that may affect household pet exposure, including age, sex, race/ethnicity, parental education, and place of birth.
The origins and associations of schizophrenia were also explored in a large genome-wide association study of more than 230,000 individuals with psychiatric disorders. Researchers identified 136 variations in genetic code that were seen more frequently in those with such disorders, including 35 never-before-reported hotspots. The results supported findings that are often observed clinically, such as strong links between bipolar disorder and schizophrenia. Although much more work is still needed, the hope is that identifying certain mutations may lead to more effective treatment.
For adults currently diagnosed with schizophrenia, lumateperone was recently approved by the US Food and Drug Administration (FDA). The drug is a first-in-class antipsychotic that acts synergistically through the serotonergic, dopaminergic, and glutamatergic systems. The medication is also being developed for use in patients with bipolar depression, behavioral disturbances associated with dementia, and other neuropsychiatric and neurologic disorders.
Finally, a recent commentary reflected on what the recent blockbuster film The Joker says about the cultural understanding of mental illness. The piece not only attempts to explore a diagnosis for the movie's title character, but it also examines the stigmas associated with schizophrenia, including presumptions about links to violence.
From insights gleaned from the silver screen to positive news about pups, a unique blend of recent news increased interest in schizophrenia, making it this week's top trending clinical topic.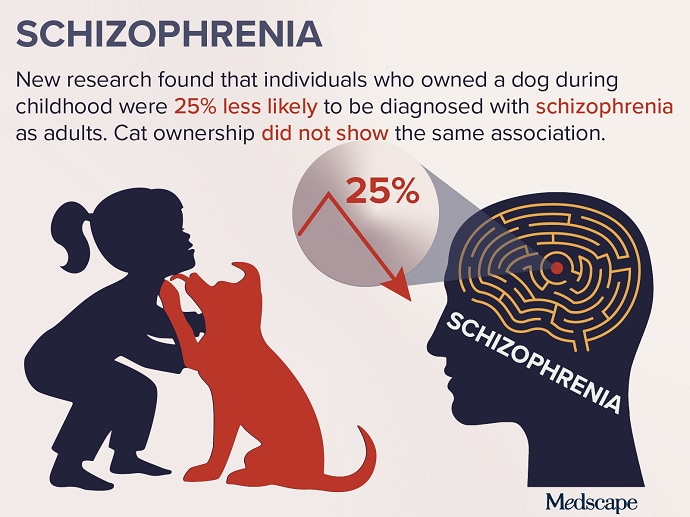 Read more about schizophrenia.
Medscape © 2020 WebMD, LLC

Any views expressed above are the author's own and do not necessarily reflect the views of WebMD or Medscape.
Cite this: Ryan Syrek. Trending Clinical Topic: Schizophrenia - Medscape - Jan 10, 2020.