Each week, we identify one top search term, speculate about what caused its popularity, and provide an infographic on a related condition. If you have thoughts about what's trending and why, feel free to share them with us on Twitter or Facebook.
New research on cannabis and heart health, as well as increased use of a particular form of the drug, helped to make it this week's top trending clinical topic. According to the World Health Organization, nearly 150 million people (2.5% of the world's population) consume cannabis each year. This explains the interest in two recent studies that examined the relationship between its use and cardiac concerns.
A study published in JACC: Cardiovascular Imaging found that regular recreational use of cannabis is associated with potentially adverse features of left ventricular size and subclinical impairment of left ventricular function. Use in the past, however, was not associated with such features, which suggests that these effects may not be permanent. The study included nearly 3500 participants. Compared with individuals who had never or rarely used cannabis, after controlling for age, sex, body mass index, systolic blood pressure, use of cholesterol medication, diabetes, smoking, and alcohol consumption, regular use was associated with:
Larger indexed left ventricular end-diastolic volume

Larger end-systolic volume

Impaired global circumferential strain
Because of concerns like these, the authors of a new review article published in the Journal of American College of Cardiology call for "routine screening for marijuana use" in order to clarify the cardiovascular safety profile of the drug. Observational studies have suggested an association between marijuana use and a broad range of cardiovascular risks, such as myocardial infarction, arrhythmias, and cerebrovascular events, but more evidence is needed to properly clarify these associations. Concerns have also been raised about the possible interaction of cannabidiol (CBD) and commonly used cardiovascular drugs .
CBD is becoming increasingly popular, with a recent Medscape poll showing that nearly half of respondents are concerned or very concerned about their patients using unregulated CBD products. Only around a third (35%), however, indicated that they often or always ask patients about CBD use. More than half (55%) of the poll takers reported that they believe CBD to have medical benefits.
As cannabis use becomes more mainstream, researchers and medical professionals will continue to keep a close watch on its various effects on health, like the ones that resulted in the drug becoming this week's top trending clinical topic.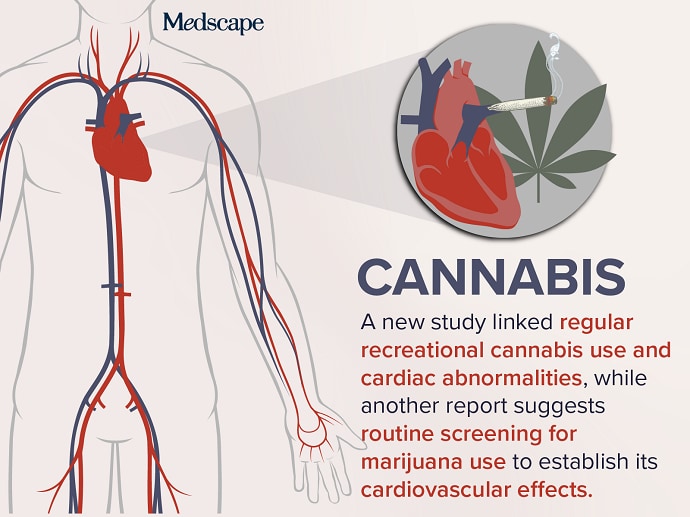 Medscape © 2020 WebMD, LLC

Any views expressed above are the author's own and do not necessarily reflect the views of WebMD or Medscape.
Cite this: Ryan Syrek. Trending Clinical Topic: Cannabis - Medscape - Jan 31, 2020.