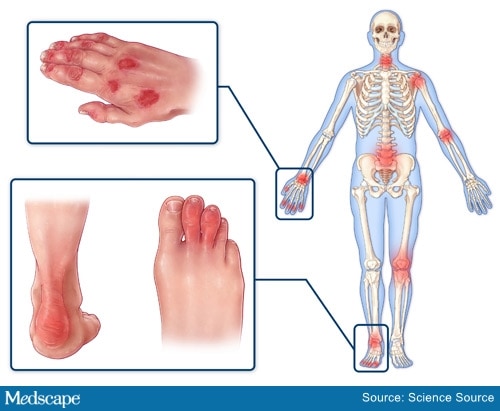 Obesity is present in as many as 45% of patients with psoriatic arthritis and is associated with increased disease activity and decreased treatment response. Data suggest that overweight and obese patients are less likely to achieve sustained minimal disease activity compared with patients of normal weight. A study from 2019 showed that weight loss can improve preexisting PsA.
Inflammatory bowel disease (IBD) is not the most common comorbidity associated with PsA, but patients with PsA have been found to have an increased risk for IBD as well as subclinical bowel inflammation. The presence of IBD is an important consideration that may influence treatment choice.
A recent study found that patients with PsA were 43% more likely to develop type 2 diabetes than people in the general population, even after controlling for obesity. Women with severe PsA appear to be at the greatest risk.
Patients with PsA have an increased incidence of nonalcoholic fatty liver disease and liver abnormalities. Patients with PsA and nonalcoholic fatty liver disease may not be able to attain minimal disease activity levels.
Learn more about PsA.
Medscape © 2021 WebMD, LLC

Any views expressed above are the author's own and do not necessarily reflect the views of WebMD or Medscape.
Cite this: Herbert S. Diamond, Eric M. Ruderman. Fast Five Quiz: Conditions Associated With Psoriatic Arthritis - Medscape - Dec 22, 2021.