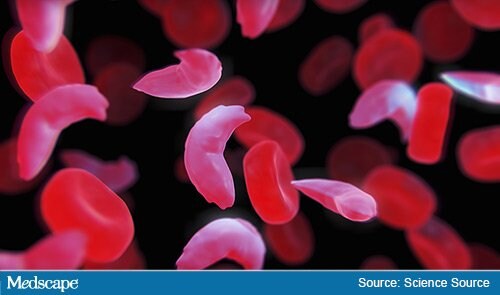 Figure. SCD, computer-generated image. Sickle cell anemia, or drepanocytosis, is a recessive genetic blood disorder characterized by red blood cells that assume an abnormal, rigid, sickle shape. Here, healthy blood cells are seen along with diseased cells.
Acute chest syndrome is a common cause of death among adults with SCD. Severe acute chest syndrome can occur because of conditions that lead to atelectasis, such as post-general anesthesia or splinting owing to pain.
Musculoskeletal manifestations of SCD may include avascular necrosis of the femoral or humeral head, which is the result of vascular occlusion. In patients with SCD, vaso-occlusion leads to infarction of bone and bone marrow; repeated episodes of these crises eventually lead to irreversible damage and osteonecrosis, particularly in weight-bearing areas. The small joints of the hand are rarely affected.
Anemia in SCD is chronic and hemolytic in nature. This results in a hyperproliferative anemia. If a patient with SCD presents with a low reticulocyte count, that should raise concern that the patient will develop a significant or life-threatening worsening anemia.
Aplastic crisis is a serious complication of SCD. It is usually caused by infection with parvovirus B19.
Learn more about the clinical manifestations of SCD.
Medscape © 2023 WebMD, LLC

Any views expressed above are the author's own and do not necessarily reflect the views of WebMD or Medscape.
Cite this: Sophie M. Lanzkron. Fast Five Quiz: Sickle Cell Disease Presentation and Diagnosis - Medscape - Aug 17, 2023.