Editor's Note:
The Case Challenge series includes difficult-to-diagnose conditions, some of which are not frequently encountered by most clinicians but are nonetheless important to accurately recognize. Test your diagnostic and treatment skills using the following patient scenario and corresponding questions. If you have a case that you would like to suggest for a future Case Challenge, please contact us.
Background
A 25-year-old woman presents with left eye pain and double vision that began 3 days prior. She describes throbbing pain that started in the left retro-orbital region and spread to her right forehead within several minutes. This was associated with mild nausea, without vomiting, and photophobia. She went to bed and subsequently noted droopiness of the left eyelid and double vision upon waking up after a few hours. The droopiness and diplopia gradually worsened over 24-48 hours, which prompted her to seek medical attention.
She had recovered from an upper respiratory tract infection 1 week before the onset of her current symptoms. She reports no facial numbness, dysphagia, dysarthria, limb numbness, or weakness. Her medical history is significant for infrequent, episodic migraines (without aura), which she treats with simple analgesics. The headache that preceded the droopiness and diplopia was similar to her usual migraines. She reports having had three similar episodes of left-eye droopiness and diplopia associated with headache at age 10 years, 17 years, and 23 years. Each time, she spontaneously recovered over a period of few days. She has not undergone previous brain scanning and has never received steroids. She describes a family history of similar headaches.
Physical Examination and Workup
The patient's physical examination findings are unremarkable. No ocular abnormalities are apparent, and the fundus examination findings are normal. Her neurologic examination is significant for a partial, left oculomotor nerve palsy (left mild ptosis and limited eye adduction), with pupillary sparing. No other cranial nerve, motor, sensory, or cerebellar deficits are noted. Her deep tendon reflexes are normal.
The patient's renal, liver, and thyroid panel; erythrocyte sedimentation rate; and antinuclear antibody and anti-extractable nuclear antigen antibody findings are all within reference ranges. All other laboratory findings are also unremarkable. MRI with magnetic resonance angiography is performed (Figure).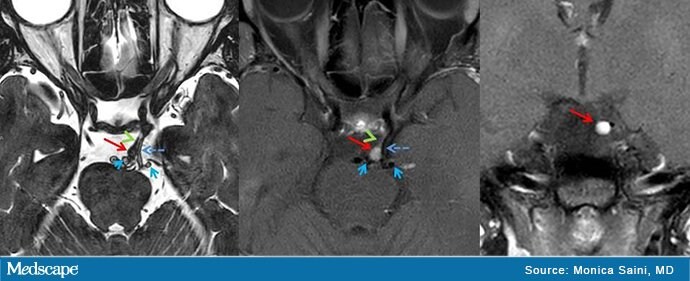 Medscape © 2020 WebMD, LLC

Any views expressed above are the author's own and do not necessarily reflect the views of WebMD or Medscape.
Cite this: Monica Saini. A 25-Year-Old Woman With a Droopy Eyelid and Double Vision - Medscape - Mar 20, 2020.