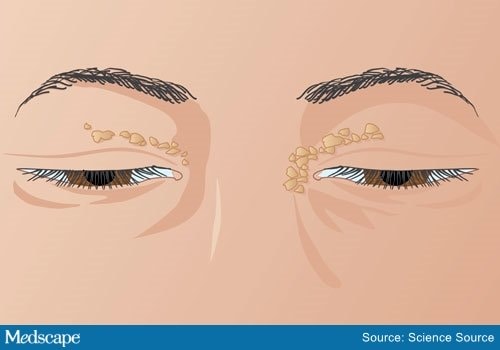 Biopsy of cutaneous lesions, such as xanthomas and xanthelasmas, can be helpful in cases in which the diagnosis of FH is unclear. Xanthelasmas and xanthomas of FH will contain accumulated cholesterol, whereas eruptive xanthomas in patients with hypertriglyceridemia will contain triglycerides.
Although the diagnosis of heterozygous FH can be made on the basis of clinical features, genetic testing can be an important component because it may offer additional insight regarding cardiac risk and diagnosis, thus enabling risk stratification and appropriate treatment initiation.
Identification of the specific LDL receptor defect can be accomplished with LDL receptor analysis; however, access to this analysis is often limited, and the results do not affect treatment selection or disease management. Patients with receptor-defective mutations tend to have a less severe phenotype with significantly lower LDL cholesterol and lower risk of atherosclerotic cardiovascular disease than those with receptor-negative or receptor-null mutations.
Before consideration of a diagnosis of heterozygous FH, secondary causes of hypercholesterolemia should be excluded, such as hypothyroidism, diabetes, and current drug therapy (cyclosporine, amiodarone, hydrochlorothiazide, and chlorthalidone).
Learn more about the diagnosis of heterozygous FH.
Medscape © 2023 WebMD, LLC

Any views expressed above are the author's own and do not necessarily reflect the views of WebMD or Medscape.
Cite this: Romesh Khardori. Fast Five Quiz: Heterozygous Familial Hypercholesterolemia Presentation and Diagnosis - Medscape - Feb 15, 2023.