Presentation
A 60-year-old woman initially presented to her primary care physician with chronic left lower extremity pain and edema secondary to varicose veins with progressive worsening. After 4 months of conservative management failed, she underwent greater saphenous vein radiofrequency ablation. She had an initial resolution of symptoms but experienced recurrence of swelling and pain in that leg 3 weeks after the procedure.
Additional imaging was obtained by her treating vascular surgeon, including a CT scan, which demonstrated a 14-cm multilobulated, intra-articular mass in her left knee with extra-articular extension. She was then referred to our orthopedic oncology clinic. MRI with contrast was ordered and confirmed significant involvement of the popliteal fossa, with compression and displacement of the popliteal vessels (Figures 1-3).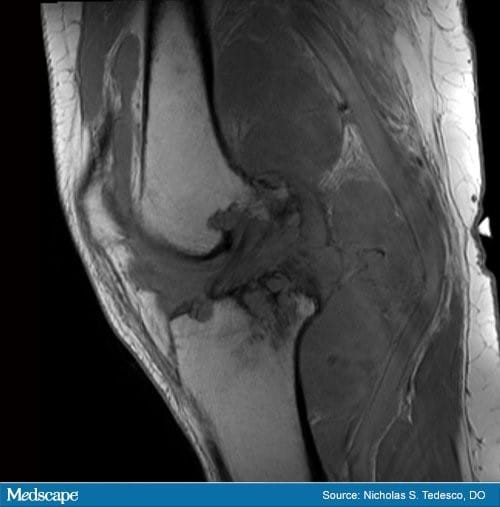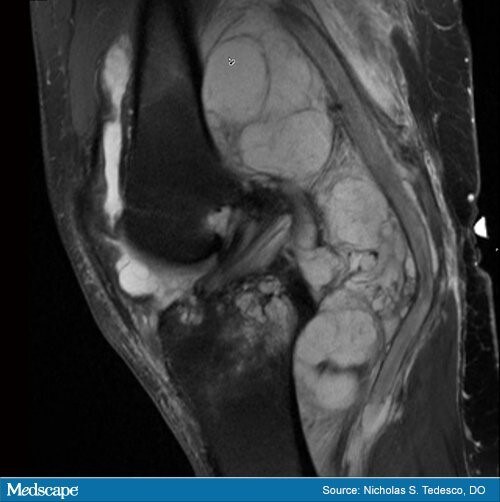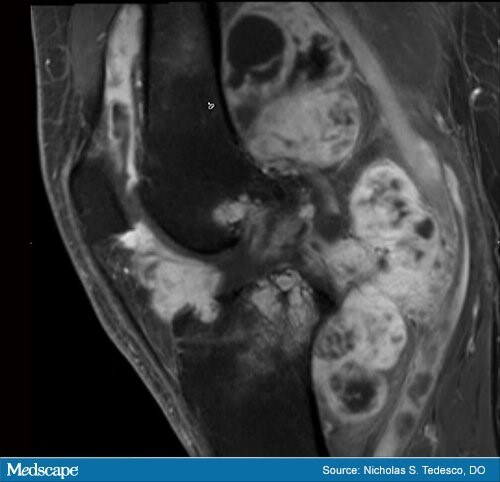 MRI revealed a strongly hyperintense, poorly circumscribed, multilobulated mass with septations in the knee joint, with large popliteal fossa extension, popliteal vessel compression, and bone invasion. The mass was markedly heterogeneous on spin echo sequences, with intense gadolinium enhancement and focal areas of contrast voids. Numerous bony erosions were observed in the femoral condyles and proximal tibia due to tumor infiltration.
Upon physical examination, a massive, firm, fixed, deep-seated, nontender, soft tissue mass could be palpated in the posterior distal thigh, popliteal fossa, and into the proximal posterior calf. Knee range of motion was +10-110° compared with 0-135° on the contralateral side. Significant ipsilateral pedal edema and multiple large-vessel varicosities were noted. Her skin was otherwise unremarkable.
Medscape © 2020 WebMD, LLC

Any views expressed above are the author's own and do not necessarily reflect the views of WebMD or Medscape.
Cite this: Alexandra Scoles, Babe Westlake, Nicholas S. Tedesco. My Strangest Case: A Woman With Varicose Veins and Leg Pain - Medscape - Sep 02, 2020.