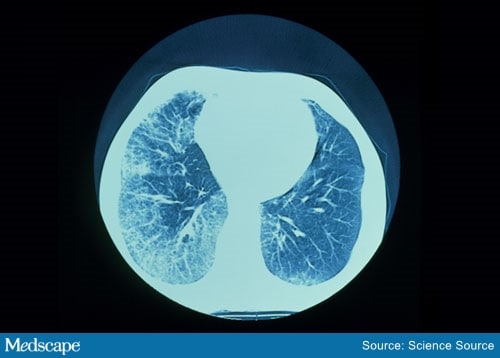 Pirfenidone and nintedanib are approved by the US Food and Drug Administration for the treatment of IPF and have been shown to reduce functional decline in patients with this form of disease. Their antifibrotic mechanism may also be an effective treatment option for patients with progressive fibrosing non-IPF ILDs who have not responded to corticosteroids and immunosuppressive treatments. However, prospective, randomized clinical trials are warranted.
Increasing evidence concludes that subgroups of non-IPF ILD show a progressive fibrosis that does not stabilize or resolve with therapy to address the initial trigger.
Complications and comorbid conditions associated with fibrosing ILD include acute exacerbation of IPF, pulmonary hypertension, gastroesophageal reflux disease, obesity, emphysema, and obstructive sleep apnea. Whether or not treating these comorbidities can influence clinical outcomes remains an open question. Treatment options are lacking for obesity, emphysema, and obstructive sleep apnea in the setting of IPF.
Vaccines against respiratory infections such as pneumococcus and influenza should be integrated into the care of patients with IPF to reduce morbidity.
Learn more about the management of DPLDs.
Medscape © 2021 WebMD, LLC

Any views expressed above are the author's own and do not necessarily reflect the views of WebMD or Medscape.
Cite this: Setu K. Patolia. Fast Five Quiz: Interstitial Nonidiopathic Pulmonary Fibrosis Management - Medscape - Feb 12, 2021.