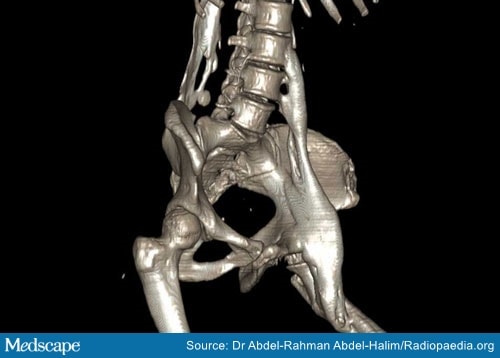 Although the definitive diagnosis of FOP can be made through simple clinical evaluation, the soft-tissue masses characteristic of FOP are arguably the most indistinct feature of the disease and are commonly mistaken for tumors, with incorrect diagnoses including aggressive juvenile fibromatosis, lymphedema, and soft-tissue sarcoma. The disorder is misdiagnosed in up to 90% of patients worldwide. Securing a timely diagnosis based on classic clinical features of FOP before the appearance of heterotopic ossification is critical in avoiding procedures that may lead to serious iatrogenic harm.
Unlike the superficial ossification indicative of FOP, many systemic conditions are associated with cutaneous calcification, some of which secondarily ossify. These conditions include those involving dystrophic calcification, such as CREST syndrome (calcinosis cutis, Raynaud phenomenon, esophageal motility disorder, scleroderma and sclerodactyly, and telangiectasia); panniculitis; Ehlers-Danlos syndrome; Werner syndrome; and some cutaneous neoplasms.
Malformations of the great toes are the hallmark of FOP, and among the most characteristic features of FOP are other skeletal features, including clinodactyly, short malformed thumbs, short broad femoral necks, and proximal medial tibial osteochondromas. In addition, stiffness of the neck is an early symptom in most patients and can precede ossification.
Learn more about the differential diagnosis of FOP.
Medscape © 2021 WebMD, LLC

Any views expressed above are the author's own and do not necessarily reflect the views of WebMD or Medscape.
Cite this: Dirk M. Elston. Fast Five Quiz: Fibrodysplasia Ossificans Progressiva - Medscape - Jan 14, 2021.