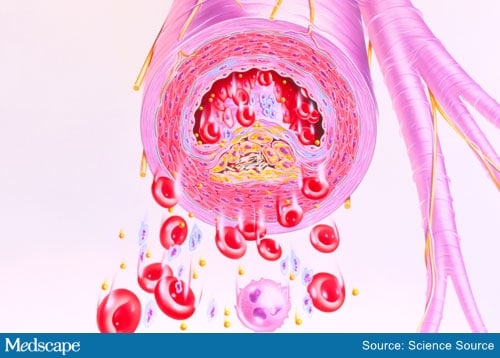 The combined thickness of the intima and media of the carotid artery is associated with cardiovascular risk factors and disease as well as an increased risk for myocardial infarction and stroke — an association that is at least as strong as the associations reported with established risk factors. B-mode ultrasonography of the common and internal carotid arteries is a noninvasive measure of arterial wall anatomy that may be performed repeatedly and reliably in asymptomatic individuals.
Routine measurement of blood glucose and A1c is appropriate in patients with diabetes. Although many parameters that may reflect inflammation, coagulation, fibrinolytic status, and platelet aggregability can be measured, these measurements have not yet proven their value in clinical practice.
Baseline CRP levels were found to be predictive of symptomatic peripheral vascular disease in a cohort of healthy men. This finding is intriguing because CRP reflects systemic inflammation, and these results bolster the hypothesis that chronic inflammation may play a role in the pathogenesis and progression of atherosclerosis. Still, whether or not CRP levels are a modifiable risk factor warrants further investigation.
Learn more about risk factors for atherosclerosis.
Medscape © 2021 WebMD, LLC

Any views expressed above are the author's own and do not necessarily reflect the views of WebMD or Medscape.
Cite this: Yasmine S. Ali. Fast Five Quiz: Noncoronary Atherosclerosis Signs and Symptoms - Medscape - Mar 01, 2021.