Each week, we identify one top search term, speculate about what caused its popularity, and provide an infographic on a related condition. If you have thoughts about what's trending and why, share them with us on Twitter or Facebook. Find the latest COVID-19 news and guidance in Medscape's Coronavirus Resource Center.
COVID-19's widespread impact on sleep has been given the name "coronasomnia." With the scope of the problem and its serious consequences now coming to light, the term became this week's top trending clinical topic. A recent cross-sectional survey found a significant increase in sleep disruption (see Infographic). Researchers behind the report that was published in the Journal of Clinical Sleep Medicine say the findings highlight the need to increase screening for poor sleep and to monitor patients for psychological and physical problems that may result. A similar study of 843 adults in the United Kingdom found that nearly 70% of those who responded reported a change in sleep patterns, with less than half reporting refreshing sleep.
The consequences of poor sleep are well known and quite serious. Not only can inadequate rest lead to worsened immune systems and mental health concerns, a recent study found that short sleep duration is associated with a significantly increased risk for cognitive impairment (CI). Data showed that individuals who objectively slept less than 6 hours per night had a twofold increased risk for mild CI. Poor sleep and chronic insomnia were not associated with CI or possible vascular CI; however, objective short sleep was associated with both.
Recognizing the effects of coronasomnia in children can be particularly challenging. Daytime sleepiness in elementary school–aged children should be considered a red flag. Experts say that sleep disruption in younger patients may be due to changes in school schedules and anxiety over the pandemic. Reassurance is often the key for helping children with the latter.
Coronasomnia has also resulted in increased use of pharmacologic sleep aids. A survey of 5525 Canadians found that 27% reported the use of such aids during the pandemic. Experts are quick to point out that relaxation techniques and cognitive-behavioral therapy are more beneficial than medications, which are often associated with substantial side effects. Tips to help patients combat coronasomnia often involve assessing and correcting poor sleep hygiene. This includes developing a healthy routine and avoiding accidental stimulation.
Most recommendations say to use hypnotic agents only as a last resort. Limiting exposure to stressful COVID-related news, reducing consumption of alcohol and stimulants, avoiding use of electronic devices in bed or near bedtime, and diet and exercise are all more strongly encouraged. One of the drug categories sometimes used to treat insomnia, benzodiazepines, has recently been the focus of US Food and Drug Administration (FDA) guidance. The FDA has stated that "The current prescribing information for benzodiazepines does not provide adequate warnings about these serious risks and harms associated with these medicines so they may be prescribed and used inappropriately."
The range of factors that contribute to coronasomnia is vast. Changes to home and work environments, increasing isolation, anxiety about job and financial security, and fear about getting COVID itself have all combined to create an environment less conducive to quality sleep. Considering that many of those stressors show no sign of abating, use of the term "coronasomnia" is likely to become even more common.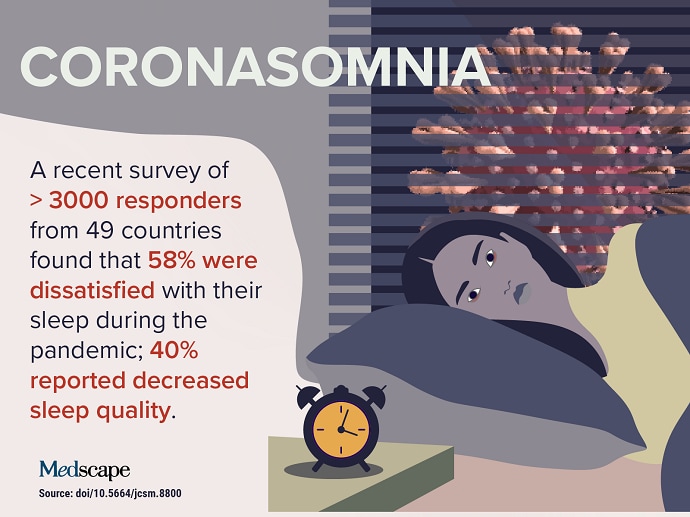 Medscape © 2021 WebMD, LLC

Any views expressed above are the author's own and do not necessarily reflect the views of WebMD or Medscape.
Cite this: Ryan Syrek. Trending Clinical Topic: Coronasomnia - Medscape - Feb 05, 2021.