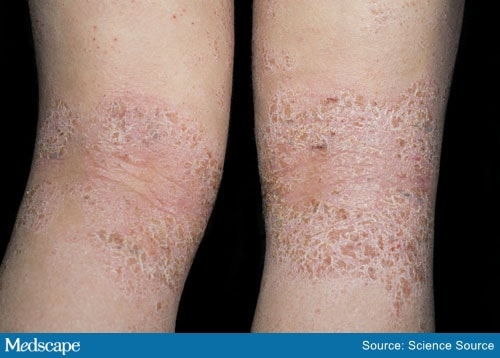 Wet dressings help reduce flares in severe recalcitrant atopic dermatitis; their use on dry, lichenified lesions improves hydration and increases the penetration of topical corticosteroids. Slow evaporation with wet dressings improves dry oozing and weeping lesions, and offers a cooling sensation on the skin which has an anti-inflammatory effect and helps to suppress itching. The mechanical barrier provided by the wet dressing prevents scratching, accelerates healing of lesions, and protects from allergens and bacteria.
Dupilumab is a subcutaneous anti-interleukin-4Ra therapy that was initially approved by the US Food and Drug Administration (FDA) in 2017 for use in adults with moderate to severe atopic dermatitis whose disease is inadequately controlled with topical prescription therapies or when those therapies are inappropriate. However, this indication was subsequently expanded in 2019 and 2020 for use in children 6-11 years of age.
A ceramide-dominant, lipid-based emollient aimed at repairing the stratum corneum barrier function loss in atopic dermatitis demonstrated a significant decrease in clinical severity scores and in transepidermal water loss in pediatric patients when applied for 3 weeks in place of traditional moisturizers.
The goal of maintenance skin care is to repair and preserve a functional skin barrier; it is the foundation of management of atopic dermatitis. Daily skincare such as bathing with lukewarm water; using a mild, unscented cleanser; and frequent moisturization helps reduce both the frequency and severity of disease flares.
Learn more about treatment and management of pediatric atopic dermatitis.
Medscape © 2021 WebMD, LLC

Any views expressed above are the author's own and do not necessarily reflect the views of WebMD or Medscape.
Cite this: William D. James. Fast Five Quiz: Severe Pediatric Atopic Dermatitis - Medscape - Mar 15, 2021.