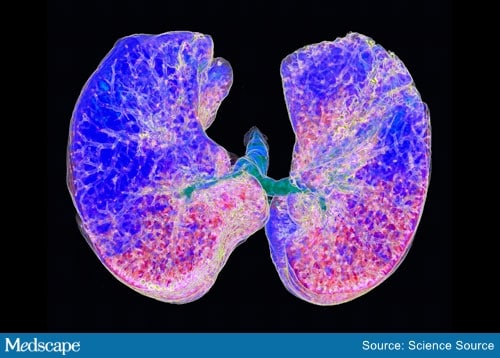 Figure 1. 3D CT scan of the lungs of a patient with ILD and interstitial fibrosis that has developed from chronic obstructive pulmonary disease (COPD). ILD is a group of lung diseases that affect the tissue in the alveoli (air sacs) of the lungs. Most of these diseases later develop fibrosis (the formation of thickened scar tissue) in the lungs. ILD results in loss of lung volume, impairing gaseous exchange and causing shortness of breath.
According to the 2022 ATS/ERS/JRS/ALAT Clinical Practice Guidelines, evidence of disease progression is defined as the presence of either of the following findings, if the findings are attributable to worsening fibrosis:
Absolute decline in FVC of > 5% within 1 year of follow-up

Absolute decline in diffusing capacity of the lungs for carbon monoxide (DLCO) (corrected for hemoglobin) of > 10% within 1 year of follow-up
Follow-up HRCT is indicated in patients with clinical suspicion of worsening fibrosis. Although no optimal interval for follow-up has been determined, repeat HRCT within 12-24 months from baseline may be useful to promptly detect progression.
Diagnostic biomarkers for fibrotic lung disease have not been validated; however, increased circulating fibrocytes have been suggested in patients with IPF, though data regarding vascular endothelial growth factor are contradictory. Chitotriosidase detected in bronchoalveolar lavage fluid may possibly correlate with the severity of sarcoidosis.
Learn more about the treatment of PF-ILD.
Medscape © 2023 WebMD, LLC

Any views expressed above are the author's own and do not necessarily reflect the views of WebMD or Medscape.
Cite this: Zab Mosenifar. Fast Five Quiz: Interstitial Lung Disease Progressive Fibrosing Management - Medscape - Mar 06, 2023.