Each week, we identify one top search term, speculate about what caused its popularity, and provide an infographic on a related condition. If you have thoughts about what's trending and why, share them with us on Twitter or Facebook. Find the latest COVID-19 news and guidance in Medscape's Coronavirus Resource Center.
Results of a large study from the Centers for Disease Control and Prevention (CDC) regarding COVID-19 severity and obesity (see Infographic below), as well as data regarding antibody response to vaccination in patients with obesity, resulted in this week's top trending clinical topic.
A new CDC study of nearly 150,000 adult patients hospitalized with COVID-19 suggests that the risk for more severe disease dramatically increases with higher body mass index (BMI). More than half (50.8%) of the patients included had obesity. The lowest risks for adverse outcomes were found in those with a BMI on the border between healthy and overweight, from 23.7 to 25.9 kg/m2. The risk for ICU admission jumped from 6% in those with a BMI of 40-44.9 to 16% in those with a BMI of 45 or higher.
Experts say that the data show a dose-response relationship with obesity. For example, the risk of being hospitalized was 7% higher for adults with a BMI of 30-34.9 and climbed 33% higher for those with a BMI of at least 45. Of note, being underweight was also associated with elevated risk for hospitalization. Patients with COVID-19 who had a BMI of less than 18.5 had a 20% higher risk for admission, compared with those in the healthy BMI range. Most concerning is that the risk for death spiked from 8% higher for those with a BMI of 30-34.9 to 61% higher for those with a BMI of 45 or higher.
A preprint study from Italy found that the ability to mount humoral immune response to COVID-19 vaccinations may be reduced among people with obesity, as well as in those who are older and male. The study of nearly 250 healthcare workers who received the Pfizer vaccine found that 99.5% developed a humoral immune response after the second dose. However, humoral responses were greater in persons with a BMI of 18.5-24.9 compared with those who were overweight (BMI 25-29.9) or obesity (BMI ≥ 30). This finding seems to be in opposition to final data from the phase 3 clinical trial of the vaccine. In that study, efficacy did not differ by obesity status. Because only 26 people with obesity were included in the Italian study, experts say further investigation is needed.
The association between obesity and COVID-19 severity has led to increased calls for action. An analysis by the World Obesity Federation (WOF) found that 90% (2.2 million) of the 2.5 million total COVID-19 deaths reported by the end of February 2021 were in countries where more than half the population is classified as overweight. That report concluded that obesity trails only old age as a risk factor for COVID-related hospitalization and death. The WOF says that the evidence "provides a new urgency...for political and collective action" in terms of reducing obesity rates worldwide.
Obesity reduction may get a boost, thanks to a potential game-changer drug. A recent study found that once-weekly subcutaneous semaglutide added to intensive behavioral therapy and an initial low-calorie diet induced weight loss that was 10.3% greater compared with placebo over 68 weeks in people with obesity or overweight. The hope is that semaglutide will help patients achieve weight loss beyond the average 5%-10% reduction associated with behavioral interventions.
Although no one drug can possibly reverse current trends, recent news has highlighted the importance of curbing the obesity epidemic, as well as the COVID-19 pandemic, and resulted in this week's top trending clinical topic.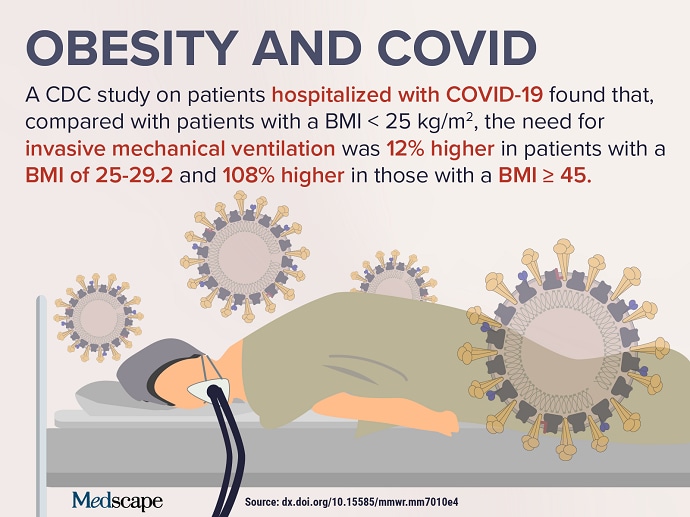 Medscape © 2021 WebMD, LLC

Any views expressed above are the author's own and do not necessarily reflect the views of WebMD or Medscape.
Cite this: Ryan Syrek. Trending Clinical Topic: Obesity and COVID - Medscape - Mar 26, 2021.