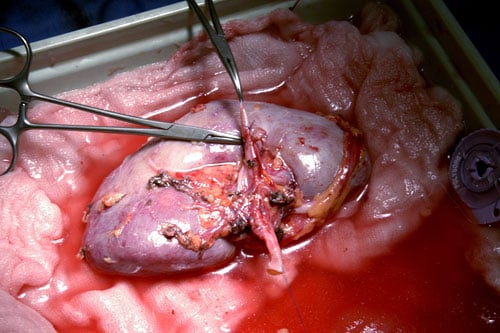 Kidney allograft biopsy should be performed for all kidney recipients with declining kidney function of unknown cause. However, all extrinsic causes should be excluded first before proceeding to biopsy.
Reduction, withdrawal, or replacement of the calcineurin inhibitor should be considered if calcineurin inhibitor toxicity is identified in a kidney biopsy. Although data are scarce on the potential benefits of using an mTOR inhibitor in this setting, this medication class may be used to replace the calcineurin inhibitor in patients with chronic allograft injury, an estimated glomerular filtration rate > 40 mL/min/1.73 m2, and urine total protein excretion < 500 mg/g creatinine (or equivalent proteinuria by other measurements).
In addition, graft preservation requires control of blood pressure, treatment of hyperlipidemia, and management of diabetes.
Learn more about the management of chronic kidney allograft injury.
Medscape © 2021 WebMD, LLC

Any views expressed above are the author's own and do not necessarily reflect the views of WebMD or Medscape.
Cite this: Ron Shapiro. Fast Five Quiz: Immunosuppression for Kidney Transplantation - Medscape - Oct 22, 2021.