Discussion
The results of a hepatitis C antibody test and a hepatitis C RNA polymerase chain reaction (PCR) test were reactive. Test results for HIV, gonorrhea, chlamydia, and hepatitis B were negative, as were rapid plasma reagin test results. Thus, this patient most likely has an acute hepatitis C virus (HCV) infection. The fact that she was screened 5 months earlier and had negative test results indicates that this is presumably a new, acute HCV infection. In the absence of prior test results, distinguishing between an acute HCV infection and an exacerbation of a chronic infection is more challenging.[1]
As many as 80% of patients with acute hepatitis C do not present with any symptoms. Of those who do have symptoms, most present with nonspecific ones, such as fever, fatigue, decreased appetite, nausea, vomiting, or abdominal pain. Some patients have dark urine, pale feces, or joint pain.[2] Although jaundice is commonly associated with hepatitis, only about 5% of patients with hepatitis C present with jaundice.[3] Figure 1 shows HCV-related jaundice in a different patient.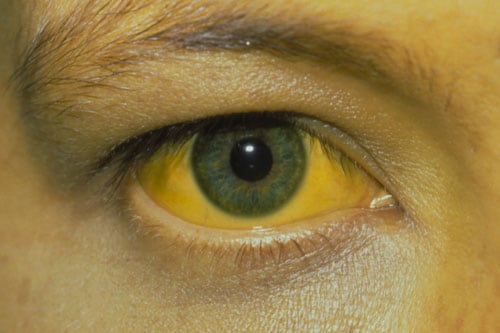 The nonspecific presenting symptoms of hepatitis C are easily confused with those of other conditions, such as symptoms of early pregnancy, as in the patient in this case. Although her symptoms may be attributable to either her pregnancy or an acute HCV infection, her prenatal laboratory results that show positive hepatitis C antibodies and viral load are not indicative of a normal pregnancy. This patient's mild elevation in liver enzyme levels requires additional consideration in pregnancy; however, most conditions during pregnancy that result in elevated liver enzymes arise later in gestation.
Preeclampsia cannot be diagnosed earlier than 20 weeks' gestation and is usually accompanied by elevated blood pressure and proteinuria. In preeclampsia with severe features and elevated liver enzymes, additional laboratory derangements such as thrombocytopenia < 100 × 109/L and evidence of hemolysis may also be present. These findings are indicative of HELLP (hemolysis, elevated liver enzyme levels, low platelet levels) syndrome.
Acute fatty liver of pregnancy is typically diagnosed in the third trimester or the immediate postpartum period, although rare cases in the second trimester have been reported. This patient's gestational age of 7 weeks 1 day is inconsistent with both preeclampsia and acute fatty liver of pregnancy.
Medscape © 2022 WebMD, LLC

Any views expressed above are the author's own and do not necessarily reflect the views of WebMD or Medscape.
Cite this: A Woman With Multiple New Sexual Partners Has Fatigue, Pain - Medscape - Oct 27, 2022.