Editor's Note:
The Case Challenge series includes difficult-to-diagnose conditions, some of which are not frequently encountered by most clinicians but are nonetheless important to accurately recognize. Test your diagnostic and treatment skills using the following patient scenario and corresponding questions. If you have a case that you would like to suggest for a future Case Challenge, please contact us.
Background
A 32-year-old man with no significant medical history has had diarrhea for the past 6 months. Because of the diarrhea and abdominal pain, he recently went to the emergency department (ED), where he underwent a CT of the abdomen and pelvis, which was unremarkable (Figure 1). During the ED visit, he described having three to four loose bowel movements per day (sometimes watery), with nausea, burning, and epigastric discomfort. He was discharged with a proton pump inhibitor (PPI) for his abdominal symptoms. His symptoms improved somewhat on omeprazole (20 mg/d); however, he ran out of medication weeks ago.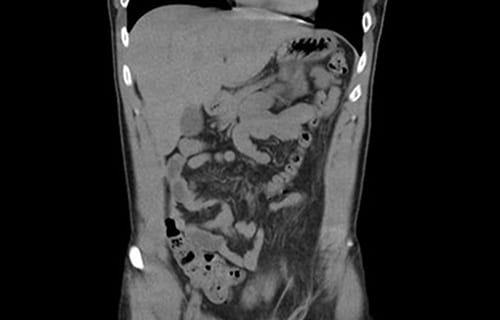 The patient presents again with similar symptoms. He has no rectal incontinence, urgency, tenesmus, nocturnal awakenings, feeling of incomplete evacuation, unintentional weight loss, dysphagia, or heartburn. He is not aware of any other factors that relieve his abdominal discomfort or loose stools and has not noticed a relationship with food intake.
He emigrated from Mexico 5 years ago and currently works in a Chinese restaurant. The only known family history is diabetes in his father. He does not use alcohol or illicit drugs and quit smoking 3 years earlier. He has no surgical history. He takes a psyllium fiber supplement (Metamucil) and bismuth subsalicylate (Pepto-Bismol) as needed occasionally and does not regularly use nonsteroidal anti-inflammatory drugs.
Medscape © 2022 WebMD, LLC

Any views expressed above are the author's own and do not necessarily reflect the views of WebMD or Medscape.
Cite this: Jaimy Villavicencio Kim, John W. Birk. Diarrhea, PPI Use, and Pain in a Restaurant Worker From Mexico - Medscape - Nov 18, 2022.