Physical Examination and Workup
Upon physical examination, the patient appears relaxed and comfortable. His vital signs include a temperature of 98.1 °F (36.7 °C), a blood pressure of 145/65 mm Hg, a heart rate of 62 beats/min, and a respiration rate of 18 breaths/min.
Examination of the skin reveals diffuse, symmetric yellow-orange thin plaques involving the upper torso and upper arms (Figure 1 and Figure 2). He has no mucosal involvement. Sclera, conjunctiva, and eyelids are clear, without signs of jaundice.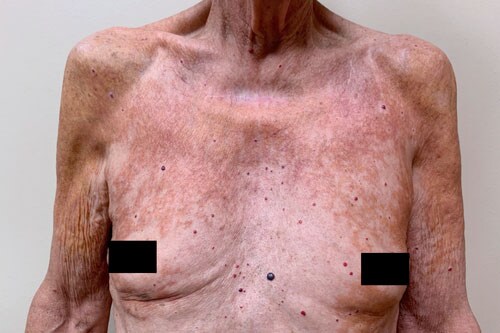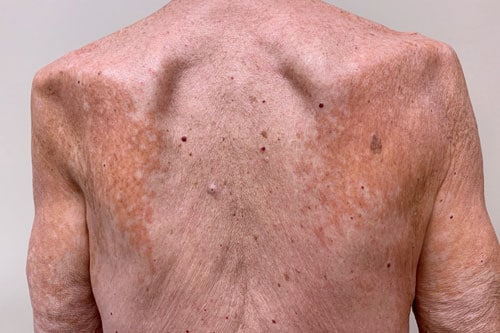 The bloodwork results are notable for normal total, low-density lipoprotein, and high-density lipoprotein cholesterol levels and triglyceride levels. A complete blood cell count is unremarkable, except for mild anemia (hemoglobin level, 12.7 g/dL; reference range, 13.8-17.2 g/dL) and mild thrombocytopenia (127,000 cells/μL; reference range, 150,000-450,000 cells/μL). Serum electrophoresis and immunofixation are ordered and show an M protein level of 3.0 g/dL (reference range, 0.57-2.63 g/dL) and an immunoglobulin G (IgG) kappa monoclonal gammopathy.
The patient is referred to the hematology-oncology service. After an extensive workup of his monoclonal gammopathy, including a bone marrow biopsy and a bone survey, he is found to have smoldering multiple myeloma.
Medscape © 2022 WebMD, LLC

Any views expressed above are the author's own and do not necessarily reflect the views of WebMD or Medscape.
Cite this: Malgorzata K. Nowakowska, Saira George. Dermatology Case Challenge: Colorful Skin Patches on a Man With Fatigue Who Smokes Cigars - Medscape - Nov 22, 2022.