Discussion
Fever, abdominal pain, and bloody diarrhea in a patient with a history of recent consumption of raw or undercooked meat are highly suggestive of an invasive gastroenteritis. Hemorrhagic ascites and the presence of gram-positive bacilli in a blood smear in this setting are diagnostic of gastrointestinal anthrax. Gram staining performed on the blood culture from the patient revealed long gram-positive bacilli with a bamboo stick or boxcar appearance (Figure 1). Furthermore, the colonies on the blood agar had a typical gray wrinkled appearance (Figure 2), often referred to as "Medusa head."[1] The isolate was confirmed by biochemical tests.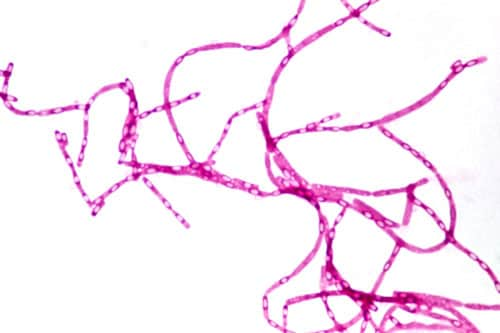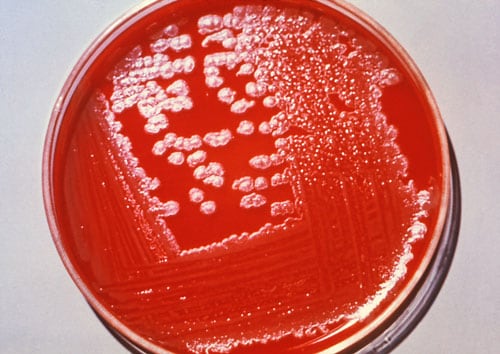 When the patient was interviewed after detection of typical bacilli on Gram staining, he disclosed the history of consumption of raw beef under the influence of alcohol. Symptoms such as abdominal pain and bloody diarrhea pointed to gastrointestinal anthrax; the presence of ascites and coffee ground nasogastric aspirate supported the diagnosis. The high leukocyte counts, thrombocytopenia, and prolonged prothrombin time were probably the result of sepsis and disseminated intravascular coagulation due to anthrax. A cerebrospinal fluid analysis was deferred, owing to the risk for bleeding in this setting. Multiple intracerebral hemorrhages were presumably responsible for the seizures and postictal delirium. Although the patient was given ciprofloxacin and clindamycin, hypotension, oliguria, and hematuria developed and his condition rapidly deteriorated. The coagulopathy worsened, severe metabolic acidosis developed, and the patient died the next day.
Although cutaneous anthrax is most common, pneumonia (inhalational anthrax), gastrointestinal anthrax, meningitis, and injection anthrax have been described.[1] Meningitis in anthrax is typically hemorrhagic and is characterized by parenchymal bleeding and high protein levels and low glucose levels in the cerebrospinal fluid. Gram staining is positive in as many as 75% of cases[2]; on occasion, the fluid may be grossly hemorrhagic. The overall survival of patients with meningitis is only 6%.[3] It is recommended that meningitis be ruled out in all cases of systemic anthrax unless there is any contraindication.
Medscape © 2022 WebMD, LLC

Any views expressed above are the author's own and do not necessarily reflect the views of WebMD or Medscape.
Cite this: Aneesh Basheer. After Consuming Alcohol With Raw Beef, a Man Has Seizure, Pain - Medscape - Dec 05, 2022.