Editor's Note:
The Case Challenge series includes difficult-to-diagnose conditions, some of which are not frequently encountered by most clinicians but are nonetheless important to accurately recognize. Test your diagnostic and treatment skills using the following patient scenario and corresponding questions. If you have a case that you would like to suggest for a future Case Challenge, please contact us.
Background
A 52-year-old woman presents with a 2-week history of severe abdominal pain. One and a half months earlier, she had reported jaundice and right-sided upper abdominal pain and received a diagnosis of biliary obstruction. She underwent endoscopic retrograde cholangiopancreatography (ERCP), which showed no stone impaction.
Two weeks after ERCP, she had a laparoscopic cholecystectomy. An abdominal CT just before the operation revealed a gallbladder studded with stones and no dilation of the common bile duct (Figure 1).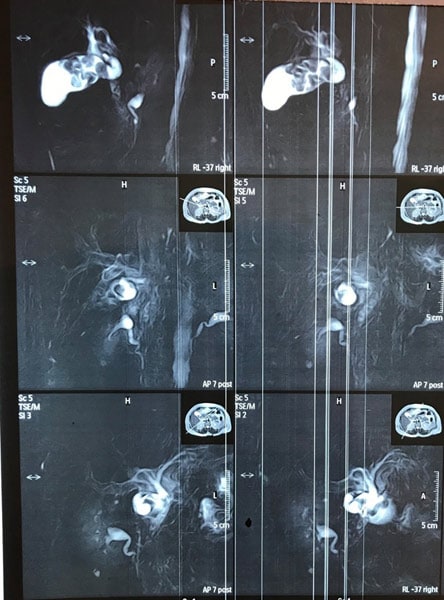 Two weeks after the cholecystectomy, the patient reported epigastric and right-sided abdominal pain, which was associated with nonbloody vomiting and a high-grade fever that reached 104 °F (40 °C). She had no constipation or melena.
The surgeon prescribed oral antibiotics, and the pain was partially alleviated. Her temperature decreased to 100.04 °F (37.8 °C), but the fever did not subside until the next week and then returned. After 1 week, the patient reported severe bloody diarrhea and severe vomiting of blackish fluid.
She has a history of full vaccination against COVID-19. She is taking oral contraceptive pills, and her menses are regular. She smokes half a pack of cigarettes per day. She has had a mild elevation in her lipid profile, for which she regularly sees a dietitian; however, she doesn't take any lipid medications at this point.
Medscape © 2023 WebMD, LLC

Any views expressed above are the author's own and do not necessarily reflect the views of WebMD or Medscape.
Cite this: Sarah El-Nakeep. Gastro Case Challenge: After Routine Procedure, 52-Year-Old Has Black Vomit, Diarrhea - Medscape - Feb 27, 2023.