Discussion
Because of his creatinine level of 1.7 mg/dL, renal insufficiency was identified in the patient in this case — a man with tophaceous gout and underlying coronary artery disease, hypertension, hypothyroidism, and GERD. Treatment with 200 mg of allopurinol per day did not lower his uric acid level below 8.5 mg/dL.
Tophi are generally a complication of gout, but they are not the only cause of nodular bursae. Osteochondromatosis and calcium pyrophosphate deposition disease must be considered, as well as rheumatoid arthritis, sarcoidosis, and the extremely rare multicentric reticulohistiocytosis.
Given that gout, especially tophaceous gout, often requires lifelong treatment, it is essential to document the diagnosis. In contrast to the challenges involved in joint aspiration (eg, those related to lack of training), bursae are simple to aspirate, as are subcutaneous tophi. Care should be taken to use aseptic technique to avoid infection. The fluid and/or material obtained is sprayed or placed on a microscope slide and examined with polarizing optics. The presence of birefringent crystals confirms a crystal arthritis; however, gout must be distinguished from pseudogout (calcium pyrophosphate deposition disease).
The recognition of a needle shape does not permit a definitive diagnosis. The latter is provided by use of a quarter wave plate (compensator). Alignment of the long axis of the crystals with the long (slow) axis of the compensator permits differentiation of the type of crystal (Figure 3). Urate crystals are yellow when aligned with the compensator and blue when perpendicular, thus allowing a definitive diagnosis.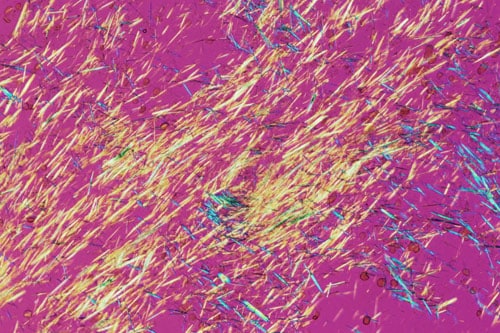 Medscape © 2023 WebMD, LLC

Any views expressed above are the author's own and do not necessarily reflect the views of WebMD or Medscape.
Cite this: Bruce M. Rothschild. Rheumatology Case Challenge: Statin Use and Gout in a Man Put on NSAIDs by Locum Tenens Doc - Medscape - Feb 13, 2023.